online: magazines, articles, news, seminars and events.
The  Agrifood Mena region in one website.
MEAP (Middle East Agrifood Publishers) the publisher of three scientific magazines: " Poultry Middle East & North Africa", "Bovine & Ovine Middle East & North Africa" and "Health & Nutrition", an open Gate for all professionals, farmers, veterinarians….
A unique address to share your knowledge and expertise, to promote your company and detail your products.
A dedicated team ready to support you and assist you in the region and  to give more added value to your business.
Did you know that MEAP has multitasking Skills?   
It offers you several services: scientific information, studies, translation, commercial support, to not forget the welcoming booth in most International and regional shows being a leader media partner…
Most welcome to Meap family!!!
We hope to see you often..... ;-)  
___________________________________________________________________
Company News
Wisium strengthens its global presence and invests in North Africa by opening its first production plant in Algeria and the 13th Wisium plant worldwide. This investment will expand the offer on the Algerian market and facilitate the exports to the Middle East and North African (MENA) countries. Wisium is willing to respond to the MENA region's increasing demand by providing high quality premix products and tailor-made services for the animal nutrition players.
Read more ...
HatchTech is pleased to announce a new agreement with its Germany-based customer, Optibrut GmbH, to install two HatchCare Chick Storage Rooms at the company's hatchery in Nordhorn, Lower Saxony. The installation will allow Optibrut to store 276,000 newly-hatched chicks in excellent conditions, providing them with feed, water, light and fresh air. 
Read more ...

 أسفرت نتائج انتخابات نقابة المهندسين الزراعيين الأردنيين عن فوز المهندس عبد الهادي الفلاحات  بمنصب نقيب المهندسين الزراعيين الأردنيين .
و فاز المهندس نهاد العليمي بمنصب نائب نقيب المهندسين الزراعيين الاردنيين و كل من  المهندسين الزراعيين محمد الطوالبة وعبير التميمي، وخالد البشابشة، وتماضر معايعة، وياسر أبوسنينة، ومحمد خير الحياري، وحسين مناع  أعضاء لمجلس نقابة المهندسين الزراعيين الرابع والعشرين 2018-2021
The 2018 Asian Pacific Aquaculture Convention (APA) took place in Taipei from 23th to 26th of April, and counted with over 1,500 registered participants this year. APA18 is organized by the World Aquaculture Society – Asian Pacific Chapter - and hosted by the National Taiwan Ocean University.  A specialist in species specific solutions for fish and shrimp, multinational Nutriad sponsored the scientific session on functional feed additives.
Read more ...
Hotraco Group has appointed Erik Helmink as director of the Hotraco Agri division. Helmink will be responsible for further developing the division's global strategy and the professionalization of the Sales and Marketing Team.
Read more ...
Multinational feed additives producer Nutriad participated in the 11th Asia Pacific Poultry Congress (APPC) organized by the World Poultry Science Association, which was held in Bangkok recently.  Belgium headquartered Nutriad works with poultry producers around the world to support them with feed additives solutions that have effectively proven to promote gut health, even in an environment where the use of anti-biotics is increasingly being restricted.
Read more ...
Hy-Line do Brasil is First Layer Genetics Company to Earn this Achievement
Hy-Line International, the world leader in layer poultry genetics, is pleased to announce its layer breeding stock distributor, Hy-Line do Brasil, has been awarded compartmentalization status by the Brazilian Ministry of Agriculture, Livestock and Food Supply (MAPA).
Read more ...
This was the early verdict of visitors, conference delegates and exhibitors alike. The exhibition and series of accompanying conferences were held at the Bangkok International Trade and Exhibition Centre (BITEC) from March 27 – 29, 2018. 
Read more ...
Poultry Sciences
March 15, 2017
A Mississippi-based Agricultural Research Service (ARS) researcher has learned that using poultry litter as fertilizer can help cotton growers in the Southeast maximize profits.
Poultry litter (chicken manure, spilled feed, excess feathers, and other poultry-house materials) contains nitrogen and phosphorus—both important crop nutrients. Applying poultry litter to the soil also recycles some of the tons of litter generated annually by poultry operations throughout the United States, says Haile Tewolde, an ARS agronomist at Mississippi State.
Read more ...
March 20, 2015
A vaccine that protects chickens against two infectious poultry diseases has been developed by U.S. Department of Agriculture (USDA) scientists.
Read more ...
By Sandra Avant
June 23, 2015
Water hardness can influence the development of columnaris disease in catfish, according to a study by U.S. Department of Agriculture (USDA) scientists.
Agricultural Research Service (ARS) scientists found a difference in disease development in fish exposed to hard and soft water containing the bacterial pathogen Flavobacterium columnare, which causes columnaris disease
Read more ...
By Sharon Durham
February 6, 2015
A new sorghum plant developed by U.S. Department of Agriculture (USDA) scientists can produce more seeds than conventional varieties currently grown by farmers.
Read more ...
By Sandra Avant
February 18, 2015
A disinfectant has the potential to treat fungus on catfish eggs, according to U.S. Department of Agriculture (USDA) research.
Read more ...
 By Sandra Avant
October 3, 2014
U.S. Department of Agriculture (USDA) scientists are taking their studies to the field to gauge the survival rate of a new line of rainbow trout that is resistant to bacterial cold-water disease.
Read more ...
By Dennis O'Brien
September 24, 2014
Using poultry litter as fertilizer is a welcome trend in many southern states because that is where most of the U.S. broiler chickens are produced. The litter's nitrogen content helps boost crop yields, and also helps reduce farmers' expenses for commercial fertilizers. But a U.S. Department of Agriculture (USDA) agronomist has found that many farmers in Mississippi may be applying litter at the wrong time of year.
Read more ...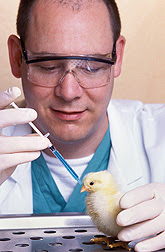 By Sandra Avant
March 24, 2014
U.S. Department of Agriculture (USDA) scientists have given the Newcastle disease classification system a much-needed update, making it easier to identify virus types.
Read more ...