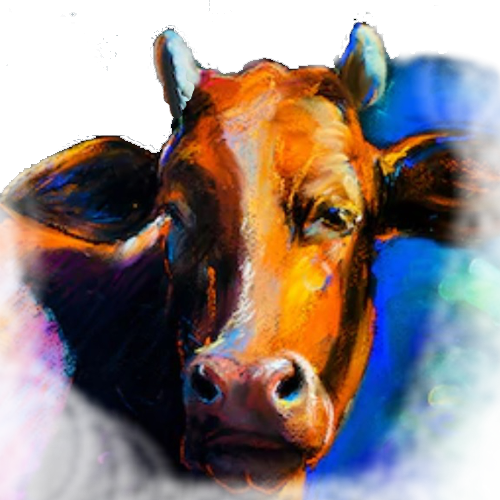 In this website you can read the Magazines online, Preview and comment the articles before their publishing, Read and comment the editorials, Be updated with the sciences and companies news, Publish your news, Follow the animal production seminars and events....
And all that is offered FREE OF CHARGE: Registration is not required.

Coming Shows المعارض في العالم
Latest news
INTRODUCTION
Newcastle is a disease caused by a virus in the family of paramyxoviruses. It appears in three forms: lentogenic or mild, mesogenic or moderate and velogenic or very virulent, also called exotic Newcastle disease. The lentogenic strains are very widespread, but cause few disease outbreaks.1
It usually presents as a respiratory disease, but depression, nervous manifestations, or diarrhea may be the predominant clinical form.2
In low challenge countries, commercial broiler chickens are often facing the uncontrolled circulation of lentogenic (vaccine) strains, especially in high densely populated poultry areas. As a result, they may show subtle to overt respiratory signs, because of the inflammation of the trachea. As a result, flock uniformity will decrease. Ultimately, slaughterhouse condemnations may increase due to excessive airsacculitis.3
Read more ...
The Agrena show will be postponed until October 2021!
Stay safe everyone.
Read more ...
The next generation flexible and labor-saving breast deboning solution
Labor and fluctuating market demands have never been so challenging in poultry processing. The strenuous effects of COVID-19 forced various processors to take measures like implementing social distancing and partly shift to other output products. The pressure on poultry processors to be flexible with both their input and output has never been so apparent. Together with decreased dependency on labor and increased requirements on health and safety, processors are facing demanding times. Meyn answers these challenges with the release of their new Meyn Rapid Plus Deboner M4.2 featuring the new Semi-automatic loading carousel. This upgraded modular, configurable deboning solution takes the next step to meet the need for flexibility and laborsaving.
Read more ...
Abstract: BIOSAFTY, BIOSECURITY, and BIORISK management system are common biorisk terms that related to support each other.
Laboratory biosafety is a mixture of principles, technologies, and practices implemented to prevent unintentional exposure to pathogens and toxins, or their unintentional release incorporation with biosecurity which is protection, control, loss, theft, misuse, division or intentional release of pathogens. This biorisk management system should be applied in our labs through well trained and qualified person. CWA 15793 is a comprehensive framework for managing biorisks developed through international collection. Shipping infectious substances and biological specimens according to IATA (INTERNATIONAL AIR TRANSPORT ASSOCIATION) roles.
Read more ...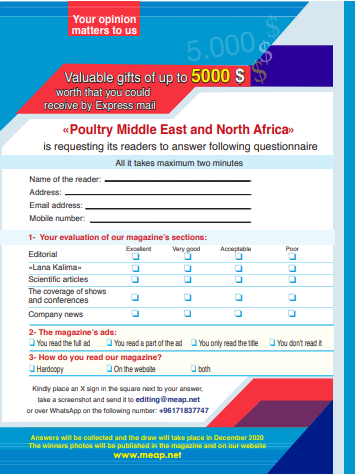 Poultry Middle East & North Africa would like to ask its readers to answer this questionnaire.
All it takes maximum two minutes
Please click HERE to download the PDF file and fill it with an X sign in the square next to your answer.