Details
AB Vista has appointed Juan Ignacio Fernandez as its new managing director, replacing Richard Cooper who has retired after 16 years in the role. Richard has been synonymous with the AB Vista brand since its launch in 2005 and has taken the company from a start-up, to becoming a highly respected global player with top three market share positions in its core segments.
Details
The local authorities of the Puy-de-Dôme department has informed the organisers of the SOMMET DE L'ELEVAGE that in light of the worsening public health conditions linked to the COVID-19 epidemic in France, they can no longer agree the derogation that would have allowed the show's organisers to disrespect the maximum limit of 5,000 visitors/day present on an exhibition (as announced by the Prime Minister on the 11 August).
Details
The Agrena show will be postponed until October 2021!
Stay safe everyone.
Details
Jamesway announces the appointment of Boutros (Pierre) al Asmar to Director of MEA Sales. Serving as part of the Jamesway sales force from 2003 to 2013, Pierre returned to Jamesway last November 2019 as Sales Manager for the Middle East and Africa. His commitment to his customers and his in-depth knowledge of the market and Jamesway equipment have made it evident that he will be well-positioned to become the Director of his area. This will also include involvement and management in the CIS countries.
Details
The next generation flexible and labor-saving breast deboning solution
Labor and fluctuating market demands have never been so challenging in poultry processing. The strenuous effects of COVID-19 forced various processors to take measures like implementing social distancing and partly shift to other output products. The pressure on poultry processors to be flexible with both their input and output has never been so apparent. Together with decreased dependency on labor and increased requirements on health and safety, processors are facing demanding times. Meyn answers these challenges with the release of their new Meyn Rapid Plus Deboner M4.2 featuring the new Semi-automatic loading carousel. This upgraded modular, configurable deboning solution takes the next step to meet the need for flexibility and laborsaving.
Read more: Meyn Releases new Rapid Plus Deboner M4.2 with Semi-automatic loading carousel
Details
Ladies and gentlemen,
Due to the exceptional circumstances linked to the COVID-19 pandemic, the Interprofessional Federation of the Poultry Sector - FISA - wishes to inform professionals and all of its partners that the 23rd edition of the Casablanca Poultry Fair, scheduled from 24 to 26 November 2020 will not be happening this year.
Details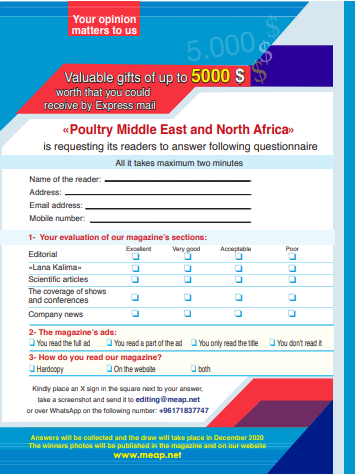 Poultry Middle East & North Africa would like to ask its readers to answer this questionnaire.
All it takes maximum two minutes
Please click HERE to download the PDF file and fill it with an X sign in the square next to your answer.


Details
INTRODUCTION
Newcastle is a disease caused by a virus in the family of paramyxoviruses. It appears in three forms: lentogenic or mild, mesogenic or moderate and velogenic or very virulent, also called exotic Newcastle disease. The lentogenic strains are very widespread, but cause few disease outbreaks.1
It usually presents as a respiratory disease, but depression, nervous manifestations, or diarrhea may be the predominant clinical form.2
In low challenge countries, commercial broiler chickens are often facing the uncontrolled circulation of lentogenic (vaccine) strains, especially in high densely populated poultry areas. As a result, they may show subtle to overt respiratory signs, because of the inflammation of the trachea. As a result, flock uniformity will decrease. Ultimately, slaughterhouse condemnations may increase due to excessive airsacculitis.3
Read more: The Economic Benefits of Vectormune ND Vaccine On Broilers at Al Ajban Farms In UAE
Details
Being grounded during the Covid-19 pandemic, I'm unable to travel as I usually would to visit hatcheries. I stay in touch with customers via e-mail and phone, advising them on incubation issues. Fortunately, it's possible to log in to their hatchery management software, so I can analyse data such as climate graphs. But it's just not the same as a live visit – you can't see, smell or feel the real situation.
Coming Shows المعارض في العالم