Nutritionists from across Lebanon gathered in Beirut to discuss the latest recommendations on what constitutes a healthy breakfast at a scientific event organized by Nestlé Middle East, with whole grains emergingas a key ingredient to help maintain healthier body weight1-3, reduce coronary heart disease risk4,5, and lower risk of developing Type 2 Diabetes5,6. 
"Breakfast jumpstarts your metabolism and gives you the energy you need for the rest of the day, with studies showing that eating breakfastis associated with a number of health benefits, including maintaining a healthy body weight, enhancing children's school performance, and helping people meet their nutritional requirements," said EceDurukan, Regional Nutrition and External Affairs Manager-Asia, Middle East, Africa at Nestlé.
On average, breakfast contributesless than 20 percent of daily calories, while delivering more than 30 percent of needed calcium, iron and B vitamins7.People who eat breakfast also tend to consume less fat, less cholesterol and more fiber over the course of their day8. In addition, studies show that nutrients missed at breakfast, namely calcium, fiber, and certain vitamins and minerals, are rarely made up for during the day9. 
Based on the daily food groups and estimated energy recommendations, a quick and wholesome breakfastshould includeone portion of whole grain such as wholegrain breakfast cereals or whole-wheat bread, complemented with semi-skimmed milk, a fruit and an optional source of proteins such as eggs or nuts.
The nutritionists gathering in Beirut was held in line with Nestlé's commitments "to promote healthy diets and lifestyles" and "reduce sugars in our products" as published in its first Nestlé in Society report for the Middle East in 2015.
Nestlé Breakfast Cereals' focus on contributing to providing better food and better lives was boosted recently with an announcement thatit achieved the company's commitments at the end of 2015 for products popular with kids and teens to:
Be made with more Whole Grain than any other single ingredient
Be a good source of calcium per serving (15% of RDA per serving)
Contain 9g total sugars or less per serving
Contain 135mg sodium or less per serving 
"We continue to help empower and inspire parents around the Middle East with practical knowledge on planning nutritious breakfast meals, made with whole grain, for the whole family," concluded Durukan. "Nestlé Breakfast Cereals is committed to making breakfast better every day for both adults and kids."
Difference between whole grains and refined grains: 
Refined grains are produced when parts of the whole grain (typically the germ and bran) are removed during processing. Losing parts of the grain leads to a loss of the nutrients associated with the part of the grain that is removed. Whole grains can be found in a variety of cereals, including wheat, oats, barley, rice, and corn.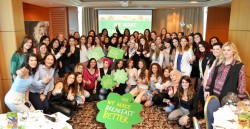 References
1. Harland JI &Garton LE, 2008 Whole-grain intake as a marker of healthy body weight and adiposity. Public Health Nutr. 2008 Jun;11(6):554-63; Williams P et al, 2008 Cereal grains, legumes, and weight management: a comprehensive review of the scientific evidence. Nutr Rev. 2008 Apr;66(4):171-82.
2. Williams P et al, 2008 Cereal grains, legumes, and weight management: a comprehensive review of the scientific evidence. Nutr Rev. 2008 Apr;66(4):171-82

3. Ye EQ et al. 2012 Greater whole-grain intake is associated with lower risk of type 2 diabetes, cardiovascular disease, and weight gain. J Nutr. 2012 Jul;142(7):1304-13.

4. Mellenpb et al. 2008 Whole grain intake and cardiovascular disease: a meta-analysis. NutrMetabCardiovasc Dis. 2008 May;18(4):283-90.; Anderson JW 2003 Whole grains protect against atheroscleroticcardiovascular disease. ProcNutr Soc. 2003 Feb;62(1):135-42.

5. Grains and Legumes Health Report 2010. http://www.glnc.org.au/wp-content/uploads/2011/04/GGHN-2010-Grains-and-Legumes-Health-Report.pdf

6. De Munter JS et al.2007 Whole grain, bran, and germ intake and risk of type 2 diabetes: a prospective cohort study and systematic review. PLoS Med. 2007 Aug;4(8):e261; Venn BJ & Mann JI, 2004 Cerealgrains, legumes and diabetes. Eur J ClinNutr. 2004 Nov;58(11):1443-61; Montonen J et al.3003 Whole-grain and fiber intake and the incidence of type 2 diabetes. Am J ClinNutr. 2003 Mar;77(3):622-9.

7. Centers for Disease Control and Prevention (CDC). National Center for Health Statistics (NCHS). National Health and Nutrition Examination Survey Data. Hyattsville, MD: U.S. Department of Health and Human Services, Centers for Disease Control and Prevention, [2007-08][http.cdc.gov/nchs/nhanes].
8. Barton BA et al. The relationship of breakfast and cereal consumption to nutrient intake and body mass index: The National Heart, Lung and Blood Institute Growth and Health Study. J Am Diet Assoc 2005;105:1383-1389.
9. Rampersaud et al. Breakfast Habits, Nutritional status, body weight and academic performance in children and adolescents. J Am Diet Assoc2005;105:743-760.
About Nestlé Middle East
Nestlé Middle East's heritage goes back 80 years to 1934 when the first import operation was set up in Lebanon. Today, Nestlé Middle East owns and operates 18 factories and provides direct employment to more than 11,000 people and indirect employment to several thousand more.
The Nestlé portfolio in the region currently exceeds 60 innovative product brands in a wide range of categories: dairy products and infant nutrition, bottled water, chocolate and confectionery, coffee creamers, breakfast cereals, and culinary products, among others. Nestlé Nido, Nestlé NAN, S-26, Progress, Maggi, Nescafé, Kit Kat, Coffeemate, Nestlé Cerelac, Nestlé Pure Life, Nespresso and Nestlé Fitness are just some of the brands available in the Middle East.
About Nestlé Breakfast Cereals

With more than 50 brands to suit all ages and lifestyles including favorites such as NESQUIK®, FITNESS®, CHEERIOS® and CHOCAPIC®, Nestlé Breakfast Cereals strives to make breakfast better with convenient, tasty and nutritious food that helps people start their day in the best possible way.Established in 1990, Cereal Partners Worldwide (CPW), maker of NestléBreakfast Cereals, is a long-standing partnership between Nestlé and General Mills, bringing together the world-class capabilities of both companies, operating in more than 130 markets.
To know more about Nestlé Middle East activities, you can visit the social media pages below: 
Twitter: http://www.twitter.com/NestleMe 
Flikr: https://www.flickr.com/photos/nestleme/ 
YouTube: http://www.youtube.com/user/NestleMiddleEast 
Website: www.nestle-me.com