Details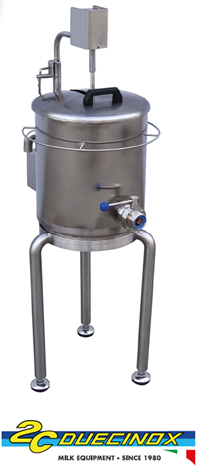 EASY AND FUNCTIONAL STAINLESS STEEL MINI PASTEURIZER
PROVIDED WITH ELECTRIC HEATING IN A WATER BATH WITH DOUBLE WALL, ELECTRONIC THERMOSTAT, PROBE FOR PRODUCT, DRAIN VALVE FOR PRODUCT, MANUAL MANAGEMENT OF THE HEATING AND COOLING PHASES.
Details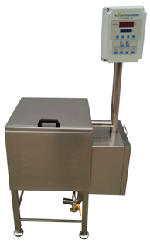 COLOCARE: The pasteurizer for colostrum
SIMPLE AND EFFECTIVE
Characteristics:
Pasteurizer, specific for colostrum treatment, COLOCARE SERIES are suitable and effective to pasteurize the colostrum contained in special bags. The machine is capable of performing the thermal cycles: Heating and pasteurization of the colostrum without damaging its essential component consisting of the immuno-globulins.
Details
By Marcia Wood
February 7, 2014
Botulism, the sometimes deadly illness commonly associated with botched home-canning or other stored-food mishaps, has a new face. According to U.S. Department of Agriculture (USDA) molecular biologist Robert M. Hnasko, botulism today is both a food safety and a homeland security concern because bioterrorists could—using the natural toxins that cause botulism—make everyday foods and beverages deadly. The nerve-damaging toxins, called neurotoxins, are produced by a common soil-dwelling bacterium, Clostridium botulinum, and several of its close relatives. 

Hnasko works for the Agricultural Research Service (ARS), USDA's chief intramural scientific research agency.
Read more: Botulism-causing Toxins Detected Promptly by ARS-developed Test Strip
Details
By Ann Perry
October 1, 2014
A recent study conducted by U.S. Department of Agriculture (USDA), Agricultural Research Service (ARS) scientists indicated that just three compounds in beef manure were responsible for generating over two-thirds of detectable odors.
Details
By Ann Perry
December 12, 2013
Studies by the U.S. Department of Agriculture (USDA) indicate the dust stirred up by wind and restless cattle at dairies does contain bacteria, fungi and small bacterial remnants such as endotoxins. But these potentially problematic particles are not found at high levels far beyond the barnyard.
Read more: Dust from Dairies Not Likely to Pose Hazard to Nearby Communities
Details
By Sandra Avant
April 21, 2014
One reason why some cows cannot get pregnant may be because they have male (Y) chromosome fragments in their DNA, according to a U.S. Department of Agriculture (USDA) study.
Reproductive efficiency is the most economically important trait in cow-calf production. When a cow does not produce a calf, the producer does not make a profit, but still has to pay for feed, labor and other expenses.
Coming Shows المعارض في العالم