A new tool from the Agricultural Research Service (ARS) can predict the odds that honey bee colonies overwintered in cold storage will be large enough to rent for almond pollination in February. Identifying which colonies will not be worth spending dollars to overwinter can improve beekeepers' bottom line.
Beekeepers have been losing an average of 30 percent of overwintered colonies for nearly 15 years. It is expensive to overwinter colonies in areas where winter temperatures stay above freezing. So a less expensive practice of overwintering bee colonies in cold storage is becoming popular.
Read more: New Tool Improves Beekeepers' Overwintering Odds and Bottom Line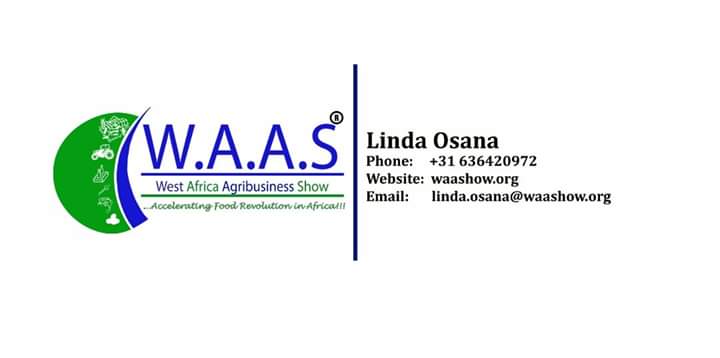 The need for West African countries to come together to showcase the rich agricultural heritage of their sub-continent and contribute to its Gross Domestic Product (GDP) are the focus of the West African Agribusiness Show scheduled for Nigeria in 2020, Mr. Idowu Asenuga, an Agric expert and top Agric consultant in Nigeria has posited.
Referring to a submission by the United States Agency for International Development (USAID), Asenuga who is the chief convener of the show declared that West Africa has an abundance of natural and human resources. "The agriculture sector represents approximately 25per cent of the region's GDP and 60 percent of its active labour force."  He, therefore, added that following the economic recovery experienced in Nigeria and other West African countries in 2017, growth in the GDP is expected to rise to 3.9per cent in 2019.
Read more: WAAS will enhance agribusiness, grow GDP across West Africa- Mr. Asenuga.
A new, modern and comfortable workspace for a growing company
 Roxell, the leading manufacturer of automated feeding, drinking, nesting and heating systems, is opening its new office building in Maldegem, Belgium today. The sleek building will serve as the international headquarters of Roxell, one of the most important local employers.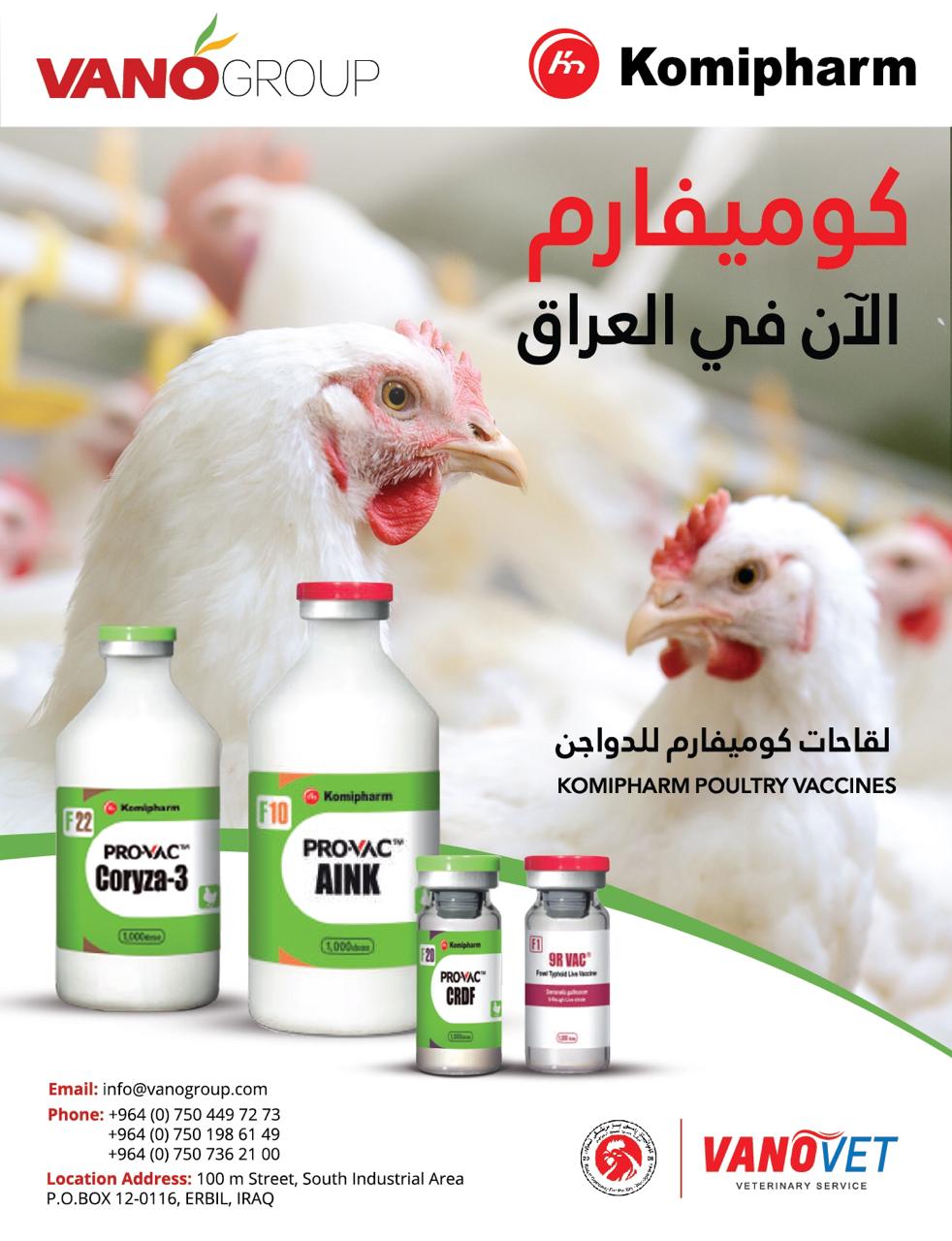 Since the established in 1972, Komipharm as a top leading Animal Health Company, have been producing a wide range of veterinary vaccines and pharmaceuticals.
VANOVET one of the VANO GROUP companies is the official distributor for Komipharm products in Iraq.
The range of poultry vaccines the company producing are very important to cover the needs of the vaccines especially for breeders and layers.
Komipharm vaccines are produced to challenge the viruses and diseases that common in Asia which Iraq is located.
The product's quality and reasonable prices gave Komipharm the opportunity to develop and to increase its market share in a measurable time. Our selection of Komipharm comes after the experience and research of the needs, we wanted to introduce a new and fast developed technology of South Korea to our country and to go beyond the affection of classic brand names in the market.    
Meap's team is heading out to participate in EuroTier Abu Dhabi happening from September 2nd till September 4.
Make sure you visit us in our booth A10 where we will be waiting for you and distributing our magazines!
See you all 🙂
Using high-tech tools, Agricultural Research Service (ARS) scientists and their cooperators have taken a deep dive into the microbial "soup" of the cow's rumen, the first of four stomach chambers where tough plant fibers are turned into nutrients and energy.
Ultimately, such efforts could lead to new ways of ensuring the health and wellbeing of cows as well as improving their production of milk, meat and other products, noted Derek Bickhart, a research microbiologist with ARS' U.S. Dairy Forage Research Center in Madison, Wisconsin.
Read more: Researchers Assemble Genomic "Jigsaw" of Cow Gut Microbes

Analyzing Genomes to Improve Disease Control in Poultry
Marek's disease—a highly contagious viral disease caused by a herpes virus—is a constant threat to poultry worldwide. It is also one of the most preventable diseases with vaccination. However, while vaccines prevent poultry from becoming sick with symptoms of the virus, they do not prevent virus spread and mutation—considered the main reason for increased virus virulence, or severity, in field strains in U.S. commercial flocks.
Move to new venue offers room for expanding show profile & experience.
From 10 to 12 March 2021, VIV Asia has a new home base: IMPACT in Bangkok. The move to this larger venue anticipates ongoing growth of the international exhibition for animal protein production and processing. With a mega size of exhibition area, IMPACT offers room for VIV Asia 2021 to welcome more business profiles and to enhance the overall show experience, for professionals from Asia and beyond, from Feed to Food.
 Having successfully closed off the 2019 edition of VIV Asia with the highest approval rating by both visitors and exhibitors, the organization did still have one puzzle to solve for the next edition: the venue capacity. The highly anticipated biannual exhibition had BITEC bursting at the seams with over 45,000 international visits and 1,200 exhibiting companies.
Read more: VIV Asia selects IMPACT as new home base for 2021
 Hy-Line International, the world leader in layer poultry genetics, along with its sister company, Hy-Line North America, the largest commercial layer chick distributor in the US, recently made a sizable donation for future research in poultry genetics, breeding, nutrition, air quality and environment control at the new Robert T. Hamilton Poultry Teaching and Research Farm at Iowa State University. The Hy-Line Genetics Research Wing will focus on unique genetic lines developed and maintained at Iowa State for decades.
Eurotire Middle East - Abu Dhabi
As soon as Eurotire Middle East was announced, it took place within a few months in Abu Dhabi from 2-4 September at ADNEC with the participation of a number of major UAE companies as well as a number of foreign companies.

Cobb-Vantress, Inc. / Siloam Springs, Arkansas, USA: Cobb Europe recently welcomed poultry professionals from 28 countries to the biennial Cobb Europe Technical Seminar held July 7-13 in Harderwijk, Netherlands.
Read more: Cobb European Technical Seminar Explores Future of Poultry Industry
Coming Shows المعارض في العالم
Users now - الزائرون حاليا
We have 758 guests and no members online