Edinburgh. – The Arbor Acres® Middle East and Africa (MEA) team welcomed distributors to Dubai for its Arbor Acres Middle East and Africa Association (AAMEA) meeting from 20-24 November. This was the first face-to-face meeting this group had since 2018 when they last met in Dubai for the Arbor Acres 85th celebration.
Read more: Arbor Acres Middle East & Africa Association Meeting 'Exceeds the Vision' in Dubai
As every year, the agro-zootechnical industry experts meets in Cremona at the International Livestock Exhibitions where events and opportunities never fail to impress. After the great success achieved with edition of 2022, this year breeders from all over the world will have the chance to meet from Thursday 30 November to Saturday 02 December 2023 thanks to this moment full of activity and dynamism.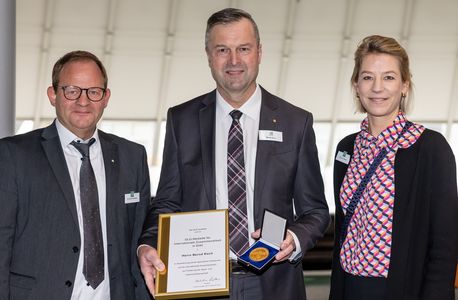 Distinction for services in the German and international markets - Managing Director of DLG International GmbH from 2009 to 2022
DLG's (German Agricultural Society) Board of Directors has awarded Bernd Koch of Waldeck, Germany, a DLG Gold Medal for International Cooperation. As Freya von Czettritz, CEO of DLG Holding GmbH, emphasized in her award presentation speech, with this honor the DLG is recognizing his significant services for DLG both in Germany and abroad: "Bernd Koch is an international trade fair expert par excellence who is well known in the global exhibition industry.
Read more: DLG Gold Medal awarded to Bernd Koch in recognition of international cooperation
Avícola Don Mario in Santa Cruz de la Sierra, Bolivia, have completed the third expansion of its single stage hatchery with 6x SmartSetPro™ setters plus 6x SmartHatchPro™ hatchers.
Bolivia is traditionally a red meat consumer, but the population is moving to chicken meat and derivates looking for healthy protein source, as the country has been improving year-by-year the Human Development Index, according to UN reports.
Read more: SmartPro™ technologies chosen for expansion and continuous improvement in Bolivia
MEAP met Ms Silvia Caletti from the international relationships of Zootecniche - the new name of the cremona fiere - known as the dairy show of Italy and Europe.
Ms Silvia stated that the show is much better than last year, more international visitors, professionals from Europe and all over the world, coming to Cremona to see the best of genetics selection of dairy cattle and to see one of the best competitions as to dairy cattle.
The next edition of Zootecniche will take place from the 30th of November till the 2nd of december 2023. Stay tuned!
Click on the below to watch the full video.
Soy Connext is a Trade Seminar organized by the Ussec on December 1st and 2nd at the Hôtel du Collectionneur-Paris - France.
MEAP is covering this seminar represented by Ms. Christiane Aoun, Head of Editorial and Vice President.
The Zootecniche Cremona International Exhibition returns to CremonaFiere on 1 to 3 December 2022.With over 650 animals on show and a wide-ranging, highly qualified exhibition of products and services, the 77th Zootecniche Cremona International Exhibition, at CremonaFiere is an unmissable appointment.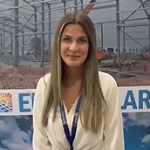 MEAP met Ms Michelle from European Steel technology company during the Eurotier show 2022.
They are specialized in poultry houses and solar system.
Click on the below to watch the video.
Read more: European steel technology at the Eurotier show 2022
Coming Shows المعارض في العالم