Details
During the VIV Europe in Utrecht on May 20-22nd, Viscon Hatchery Automation will introduce a new product line that revolutionises the process of egg handling in the transfer area of a hatchery. It will ensure a maximum hygiene level and accuracy during vaccination and transfer of eggs. This improves animal welfare and helps reduce the use of antibiotics. 
Read more: The new standard in hygiene during vaccination and transfer of eggs
Details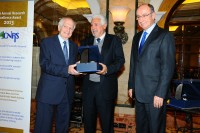 The reception of the CNRS award from Professor George Tomeh on the left and Professor Mouin Hamzeh on the right. 
Read more: Professor Mohamad Talal Farran's Receives the CNRS Award
Details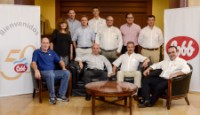 Leader in the broiler breeder market in Argentina, Reproductores Cobb held a special event to mark the 50th anniversary of the partnership between Cobb-Vantress Inc and Granja Tres Arroyos.
Read more: Celebrating 50 years of Reproductores Cobb in Argentina
Details

More than 140 participants from the feed industry, coming from 27 different countries, attended the Adisseo Expertise Tour, that took place in Belle Eglise, France, on October 1st and 2nd 2013.
Read more: Adisseo held its Expertise Tour dedicated to "Business and Nutrition Tomorrow"
Coming Shows المعارض في العالم