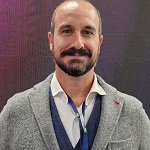 MEAP met Mr Carmelo DiStefano Doxal's regional manager for Middle East and North Africa during the Eurotier show 2022.
As per Mr Carmelo Eurotier is a good exhibition with good attendance and lots of customers and friends.
Doxal is intending to implement new projects for the Middle East and other areas, they will be present in VIV Asia in March and looking forward to meet all customers and friends.
Click on the below to watch the full video.