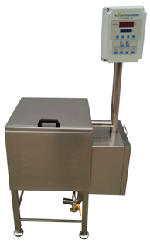 COLOCARE: The pasteurizer for colostrum
SIMPLE AND EFFECTIVE
Characteristics:
Pasteurizer, specific for colostrum treatment, COLOCARE SERIES are suitable and effective to pasteurize the colostrum contained in special bags. The machine is capable of performing the thermal cycles: Heating and pasteurization of the colostrum without damaging its essential component consisting of the immuno-globulins.
Technical features:
Multi-program control panel, Automatic
functions performed: Pasteurization, Thawing, Pre-heating, temperature maintenance.
·        FULLY STAINLESS STEEL STRUCTURE
·        MAX NUMBER OF BAGS CONTAINED: 4 TO 5, 4 L EACH
THE MACHINE IS BE EQUIPPED WITH A STARTER KIT OF BAGS AND ADAPTERS FOR CALF FEEDING