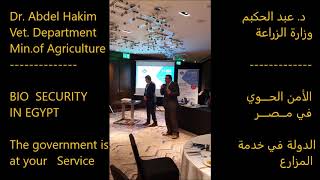 Dr Abdel Hakim, Head of the Veterinary Department of the Ministry of Agriculture, had to leave the meeting due to an urgent call from the minister.
However, he was able to give a three-minute talk asking farmers, especially from large-scale farms, to help the government to complete the "Flu Free compartment" certification of the WHO (World Health Organization). This will allow Egypt to export its poultry meat. The procedures are already 90% completed and there are a few steps to complete them.
On the 19th of January 2020 at 5 pm (17:00) VIV MEA and MEAP organized the VIV MEA 2020 Preview reception and dinner in the INTERCONTINENTAL CAIRO SEMIRAMIS. During the event, Former Deputy Minister of Agriculture Dr Mona Mehrez, Mr Tony Freiji and Dr Nabil Darwish had a short talk about the biosecurity regulations and their application. At the end of the meeting VIV annouced The VIV MEA Show in Abu Dhabi and MEAP (Middle East Agrifood Publishers) annouced the FIRST POULTRY MARKETING ROUNDTABLE that will take place in ABU DHABI on the 10th of March. Around 45 CEOs from Egypt have participated in the Cairo's event.