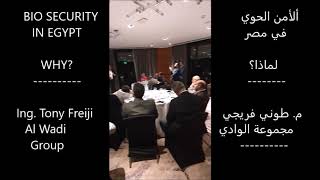 Mr Tony Sleiman Freiji is an agro-industrial magnate and a leading player in the regional poultry, agriculture, logistics and allied industries. He is the Co-founder, Chairman and CEO of Wadi Group (Egypt), and co-founder and board member of Inmaa (Sudan), and Tanmia (Lebanon). Businesses under his leadership encompass 22 companies and employ over 4000 people.
One can call Freiji a businessman or an industrialist, yet he proudly calls himself "a simple farmer", and continues to cherish both his upbringing and education at AUB's FAFS as the foundations for his success.
We devided his important speech of 22 minutes in 2 parts. Part 1 (11 minutes)
On the 19th of January 2020 at 5 pm (17:00) VIV MEA and MEAP organized the VIV MEA 2020 Preview reception and dinner in the INTERCONTINENTAL CAIRO SEMIRAMIS. During the event, Former Deputy Minister of Agriculture Dr Mona Mehrez, Mr Tony Freiji and Dr Nabil Darwish had a short talk about the biosecurity regulations and their application. At the end of the meeting VIV annouced The VIV MEA Show in Abu Dhabi and MEAP (Middle East Agrifood Publishers) annouced the FIRST POULTRY MARKETING ROUNDTABLE that will take place in ABU DHABI on the 10th of March. Around 45 CEOs from Egypt have participated in the Cairo's event.