The Schippers Group and Healthy Livestock hosted an online conference about antimicrobial resistance (AMR). The conference featured leading scientists and practitioners in the field of antimicrobial use in farm animals.
Food processors know that with margins under pressure every dollar counts. Balancing production costs, yields and product quality all whilst keeping consumers satisfied is not an easy job, which is why leading technology provider GEA is launching its Signature Chicken solution in the United States at the 2022 International Production & Processing Expo (IPPE) show in Atlanta, January 25-27. Initial customer trials and inhouse comparative tests of the process have reported yield increases of up to 10% when compared with traditional processes.
Read more: GEA offers best practice solution for improving chicken product yields
Researchers within the Agricultural Research Service's (ARS) Systematic Entomology Laboratory (SEL) are currently preparing for more intense study of beetles in the genus Agrilus, thanks to their recent acquisition of the Eduard Jendek Collection. The collection was developed over the last 30-40 years in Slovakia by world Agrilus expert Eduard Jendek. It boasts over 25,000 specimens, making it one of the largest private collections of metallic wood-boring beetles in the world, and a major step forward for the Nation's preventive efforts to agricultural challenges.
Read more: USDA's Systematic Entomology Laboratory Leads Acquisition For One of the World's Largest Private...
Aviagen's investment in a local production base in Zambia heightens presence and support in the distribution and secure supply of Parent Stock within the African continent.
Aviagen®, along with its regional distributor, Ross Breeders Zambia, which is a part of the Country Bird Holding Group, is continuing to invest in the African region to enhance its developing supply chain and its 'global reach, local touch' strategy with the creation of "Ross Central Africa Limited" based in Zambia, Sub-Saharan Africa. The newly created company, Ross Central Africa Ltd is a joint venture between Aviagen and Ross® Breeders Zambia. This expansion allows Aviagen to improve security of supply, and to enhance its service and support to customers on this continent.
Read more: Aviagen Secures Continuous Local Supply Through a Joint Venture in Central Africa with the...
Last November, Eng. Tony Freiji - Chairman of the Board of Directors of Wadi Group and Eng. Puzant Dakessian - Poultry Division CEO have attended the VIV International Exhibition for Agriculture and Livestock Production in the Emirate of Abu Dhabi, with the participation of the most vital international poultry companies.
When Ferenc Elshof and Jankees Sligcher from Royal Pas Reform visited the Kukuchic hatchery in Uganda to discuss expansion plans, they saw at first-hand how the poultry sector in Africa is developing and adopting the latest technologies.
Driving through Kampala, Uganda's bustling capitol city, with Dr.Wesley Rutto, Kukuchic's Managing Director, is no easy task. It is a sign of a developing economy straining to burst out of its present situation.
Read more: Uganda's Kukuchic expands with Royal Pas Reform technologies and service
The 22th International Exhibition for the Management
& Production of Poultry, Livestock & Fish: 13th – 15 th Oct. 2022
AGRENA has stood the test of time to register itself as the Middle Eastern region's largest & most prestigious Poultry, Livestock & Fish Show. It targets the flourishing Poultry, Livestock & Fish industry in one of the biggest markets for Poultry, Livestock & Fish products in the Middle East, with an emphasis on giving the possible opportunities to broaden your horizons & to see the latest technology, products and services.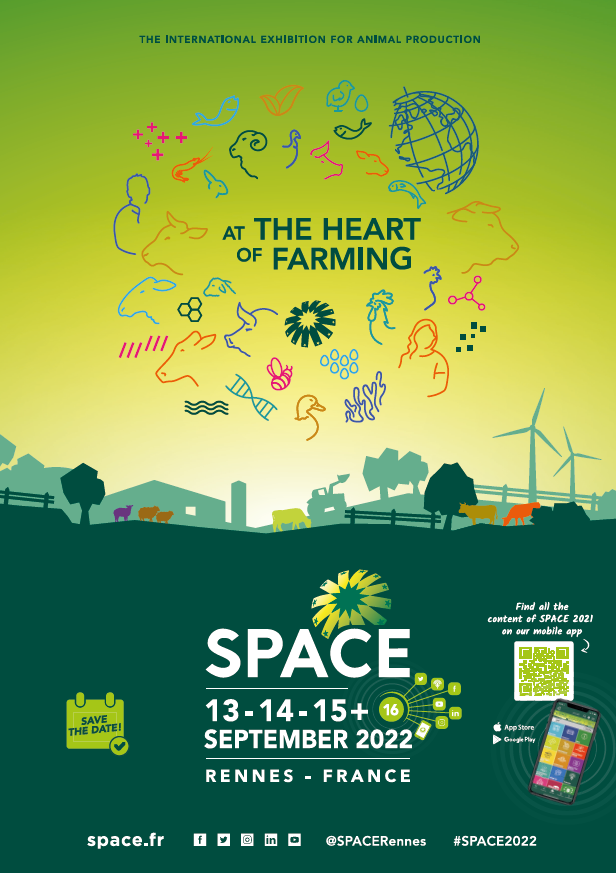 SPACE is the essential trade show for all those involved in animal production. Thanks to its positioning at the heart of a large breeding region in Europe, its professional roots and its international development, SPACE is the unmissable global meeting place for professionals in all animal productions [beef (milk-meat), pork. , poultry, sheep, goat, rabbit and aquaculture.
Coming Shows المعارض في العالم